Be Your Own Boss
Own a profitable Dollar Store Business
Whether you own a single dollar store franchise or several dozen stores, general merchandise should account for about a third of your dollar store inventory. General merchandise sold by Dollar Store Merchandise wholesale includes everything from children's toys to hardware, key chains to flashlights. If you are opening a new dollar store, we'll be happy to help you create a list of items you'll want in stock for your grand opening. The grand opening of any retail store is a significant moment for the store's owner, but it's particularly important–and challenging–for the owner of a dollar store. The owner of, say, a clothing boutique will only have to stock her store with a few hundred clothing items in about a dozen different categories to prepare for a grand opening. The owner of a dollar store, in contrast, has to stock his shelves with thousands upon thousands of items in dozens of different product categories.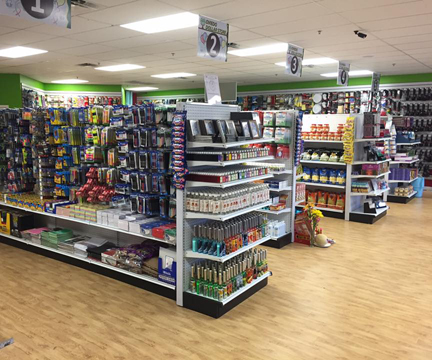 The task of ordering this much inventory can be overwhelming for a first-time retail business owner. Dollar Store Merchandise and our parent company, Buckstore, Inc., can help you successfully face the challenge of stocking your dollar store for its opening. Buckstore, Inc. is one of the most important and recognized names in dollar store development. Its subsidiary, Dollar Store Merchandise, is a leading name in dollar store general merchandise, consumables, health and beauty items, and so on. Unlike many businesses that help dollar store owners with store openings, we are invested in your store's long-term success. Many dollar store developers and product warehouses only care about your store's opening, since that is the time when they make the vast majority of their earnings. In contrast, Dollar Store Merchandise makes the bulk of our earnings from your continual and long-term success.

Do you want to open your own Dollar Store at cost?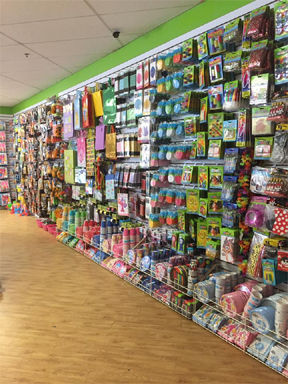 To learn more about the amazing savings these Chinese imports provide, please visit
www.
DollarStoreMerchandise
.com
or call us toll free at
877-549-5210
Franchises don't provide a great opportunity for dollar store business people, because franchises own a piece of your business that is already a proven success if you do a store independently. If you own a dollar store franchise, you'll have the bad fortune of having to use an existing name. Another non-positive aspect of a Dollar Store Franchise is that most companies are not well run or well stocked, from the very first day it opens. The power of your store's good name and reputation only extends so far. Owning a Independent Dollar Store will draw customers to you many times, but only great customer service, exceptional prices, and terrific merchandise will keep these customers coming back for more. Dollar Store Merchandise is a leading resource for those entrepreneurs who own independent dollar stores and some owners of dollar store franchises, as well as those entrepreneurs who own only a single dollar store and not chains. Whether you're in charge of one dollar store or 100 dollar stores, Dollar Store Merchandise has exactly the merchandise you need, located in one convenient, reliable, and well-known place. For our customers who own many stores, we proudly suggest our Chinese imports. These imports, direct from China, are perfect for owners or managers in charge of stocking numerous stores. The minimum orders are too high for folks who only own a store or two, but they are ideal for owners of multiple franchises. ADVANTAGES OF OWNING DOLLAR STORE VS FRANCHISING The retail industry has changed significantly during the last two decades. Large chain stores have driven many mom and pop enterprises out of business. The entrepreneurial spirit is still alive in the USA. In the past owning a franchise was a safe way to get ahead in the retail business. They offered brand recognition and market experience to the novice business person. Globalization has changed that. Royalties, Franchise fees and operating restrictions have made many of these types of business non competitive. One business that has done well in this changing business climate is Dollar Stores. They offer everyday necessity items at the lowest price point, giving their customers an opportunity to save money and buy many things that would otherwise be out of their budget. Choosing the right company to develop and set up the stores is extremely important. Some Dollar Store Developers require large deposits before offering any information. They make it hard for the prospective Dollar Store owner to make intelligent (comparisons) decisions. We don't recommend paying upfront for information. We believe in giving our customers as much information as possible before they pay us any money or make any commitments. Buy showing them all available options, without imposing any restrictions of how they can run their business, they can customize their store while meeting the needs of their customers.

If you are ready to take the next step toward owning your own business, fill out the form below.
A DollarStoreMerchandise consultant will contact you.